By Gaurav Sharma
"Slow, steady effort is rewarded with justice that arrives like a thunderbolt": the words of  American President Barack Obama reflect a lot on the immense struggle that gay right proponents had to undergo before the landmark judgement to legalize same sex marriage was passed.
A lot of multifaceted complexities envelop same sex marriages. These include a wide array of issues relating to legislation, social and religious views, personal beliefs, civil rights, ethics and morality.
The stigmatic barriers faced by gays and lesbian couples are antithetical to the fact that throughout history same sex unions have thronged in myriad forms; from unsanctioned relationships to informal and highly celebrated unions.
Prevalence in Older times
In the Greek empire, Pederasty, an erotic relationship between adult males and young male teens was socially acknowledged. In fact, the practice was so widespread during the 200 year old Classical Period, that it is sometimes referred to as "the principal cultural model for free relationships between citizens".
The Roman empire also had its fair share of gay relationships with Emperor Nero celebrating two public weddings with men, once in the role of a woman and the other time as a man.
Similar was the case with China where females would bind themselves in contract to other women and males would enter similar arrangements with other males.
The celebrated Song dynasty tale of Pan Zhang & Wang Zhongxian – a domestic partnership between two males; a beautiful writer and his male student–stands as a testimony that two people of the same sex can love each other the same way a husband loves his wife, thus quashing the "unnatural" contention by the conservatives.
The southern Chinese district of Fujian is well renowned for its homosexual traditions, with Ming writers, extensively covering men of Fujian–who were extremely fond of male beauty.
Backlash
Banning same sex marriage began as early as 340 AD, when Christian emperors Constantius 2 and Constans decreed against such a union.
Almost all religions and philosophies, including the prominent ones of Bible, Talmud and Torah frown upon homosexuality and same sex marriage as practices contrary to nature and "sinful" in the eyes of the Creator.
Such moral denouncements were set in stone through a law known as Theodosian code, thereby outlawing marriage within the same sex and further using a warped logic to hold persons accountable for "famines, earthquakes and pestilence".
In the Medieval period, the Church used (and continues to use) the Bible as the fundamental text to base the same moral justification.
Some historians, such as Yale historian John Boswell, however contend that the Orthodox Church itself was conducting an early form of religious same sex marriage known by the name of brother-making.
The documents found in the Monastery of San Salvador de Celanova, showing the same sex marriage of two men in 1061, further strengthen such contentions and reveal the hypocrisy of the church.
Current Scenario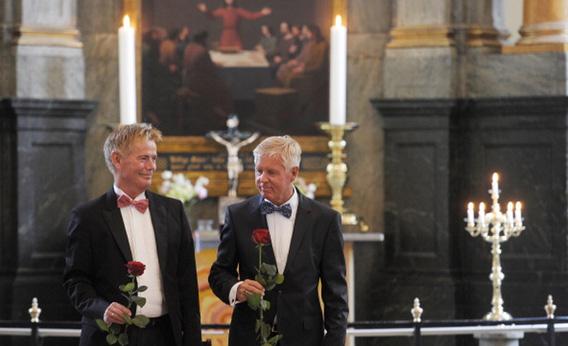 The postmodern era has seen the upholding of various types of same sex unions. More than 12 European countries have legalized same sex marriage, with almost the same number of European nations recognizing civil union and allowing for unregistered cohabitation.
More and more countries are following suit, Ireland and USA being the latest ones while Finland is in the process of legalizing.
The definition of marriage has itself become extensive. The Merriam Webster dictionary defines marriage as not only a relationship that exists between a husband and a wife but also as a relationship between two people of the same sex.
The Oxford English dictionary has also revised the definition of the word, dropping gender specifications and instead supplanting them with gender neutral language.
Why the discrimination?
Marriage as a societal concept, confers a host of privileges; from medicare to legal status and property rights, something which is lucidly absent in cases of civil unions and partnership laws.
When gay men and lesbians are denied such basic rights by questioning the legitimacy of their relationships, it automatically amounts to discrimination which relegates them as "second class citizens".
There are numerous cases where such denial which has led to emotional and physical stress among the same sex couples.
Decades of research conducted by the American Psychological Association and other organizations, has shown that the experiences of same sex couples is the same as other heterogeneous people.
Warped logic
Another illogical argument raised against same sex marriage is that lesbian and gay couples cannot be perfect parents to children. Scientific studies have proven otherwise.
Through adoption, lesbian and gay parents have proved themselves to be as loving and caring as "normal" couples, sometimes taking their affection a notch further by adopting children with special needs and others who might be older and difficult to form a relationship with.
Another conception is that divorce rate among homosexual couples was high and would ultimately lead to destroying families. Again, studies prove such a thought as misleading.
Records on same sex marriages from the Netherlands, Belgium and Denmark reveal that the marital dissolution rate has remained constant. Same sex couples cannot be held responsible for the spike in heterosexual divorce rates.
The real reason why same sex couples had to and still undergo such a long struggle before their rights could be recognized in the US and other parts of the world, is the embedded anti-gay prejudice based on preconceived misinformation.
With the world's leading superpower abolishing the ban on same sex marriage, it remains to be seen if the rest of the world stands up and embraces people belonging to all sexual orientations.